On previous trips to St. Francisville, we always head straight for the historic town, walking the shaded main streets and shopping at Grandmother's Buttons before setting off to tour a nearby plantation. Although we see the sign for Port Hudson State Historic Site as we pass, we never stop, always having a slight aversion to taking toddlers to a battle site. On our most recent trip, though, we had a change of heart and decided it was finally time for us to veer off the road and check it out.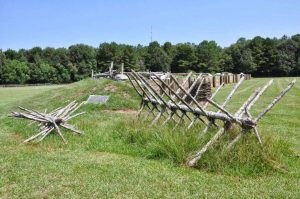 Port Hudson State Historic Site
As is most often the case, we were pleasantly surprised by our decision. A model state facility, Port Hudson was immaculately kept up, with 6 miles of wipe-open trails for exploring and a child-friendly ranger who welcomed the kids and their insanity with open arms. An informative exhibit inside the museum offered miniature models of soldiers and horses that captured the kids' imaginations, while the sad details of the actual battle were left to those old enough to read.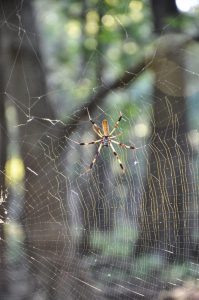 Golden-silk spider
The longest siege in American military history took place at Port Hudson, where for 48 days 6,800 Confederate soldiers held off 30,000 Union troops. There were thousands of casualties before the Confederates finally surrendered after hearing that Vicksburg had surrendered. The site is also important as being the first battle in which African American troops from Louisiana were allowed to participate in the battle, fighting for the Union army against the Confederates. Port Hudson later became a recruiting center for African-American troops.
After brushing up on our history and watching the ranger let the kids try on a canteen and practice moving a small cannon, we began our journey on the trails outside. It first led us through an open field to original cannons used in the Civil War battle here. Then, looping around, it immersed us into a shady forest with giant spiders weaving webs right over our heads and small bluffs offering elevation changes not often seen in Louisiana.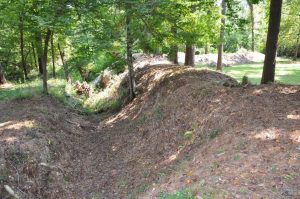 Fort Babcock
At Fort Desperate, an elevated boardwalk led us over the earthen hills built by the soldiers, and signs spoke of sharpshooters watching Union soldiers as they dug trenches to get closer to their enemy. We then crossed Foster Creek and found Fort Babcock, another series of earthen hills left behind to nature and the tiny frogs and lizards jumping and scurrying about through the fallen leaves. While the kids tested their bug-catching skills, we tried to imagine thousands of young soldiers hiding here in these woods 150 years ago.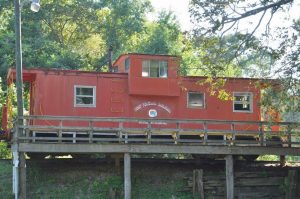 Train car on display in town
The day was still early when we left Port Hudson, so we headed toward St. Francisville to pick up a bite to eat at Magnolia Cafe. On a whim, we decided to drive to the edge of town to view the Mississippi River and were surprised to find the road leading nearly straight up to the water's edge. From here, we turned back and stopped off to investigate an old train car left behind from the West Feliciana Railroad. The kids climbed over every inch of it before we herded them back into the car to find out if the road was open to Cat Island.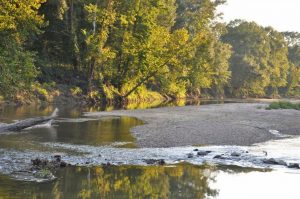 Drive to Cat Island National Wildlife Refuge
As we crossed the low-lying bridge over a local river, we were excited to realize that the road was not flooded as it had been on previous visits. A family jumped across rocks in the scenic river while we headed out into the country, past several sightings of grazing deer to the dirt road that leads to Cat Island National Wildlife Refuge. A lack of signage and our own poor guessing at directions helped us "get lost in Louisiana" yet again before we finally found our way to the destination. Inside the refuge, we parked at the trailhead for the old cypress trees and walked the short distance to the viewing platform for the National Champion Bald Cypress – an enormous, ancient tree dominating the old growth forest around it. We took our time admiring this grandfather of trees, which spends half of every year swimming in the floodwaters of the Mississippi River. It's a sight to see and the perfect ending to our day of adventure.
National Champion Bald Cypress