It's a rare event that we have an adults-only weekend, but acknowledging the antiques and information-filled tours at many River Road plantations, we reserved our trip there for just such a time. We started late on Saturday (after soccer, of course), dropped the kids at their grandparents and headed out I-10 toward Sorrento.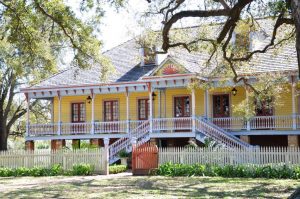 Laura Plantation
First up was dinner at The Cabin Restaurant, an original slave cabin from Monroe Plantation. Newspaper still plastered the inside, once used to insulate the former home. Filled with old farming equipment, our back dining room was built to look like a garçonnière, where bachelors stayed on a plantation. The food was hearty and low-key, with the chicken and sausage gumbo coming as a top recommendation from our waitress. There appeared to be a collection of old buildings in the courtyard–slave cabins, a general store and the first Catholic school established for children of color, but unfortunately it was too dark to look around.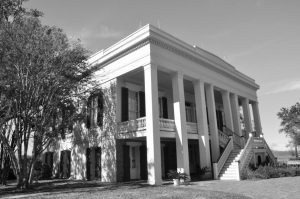 Bocage Plantation
Our destination for the evening was Bocage Plantation, a masterfully restored plantation home built in 1837 on land once owned by a descendant of Christopher Columbus. Now open as a bed and breakfast, the four-bedroom mansion offers guests the ultimate in luxury. Our host greeted us with a tour of our room, the first-floor Venetian Room decorated with rich colors, an inlaid ivory bed and antiques we've only seen in the finest of homes. With a glass of wine in hand, we spent the evening in good conversation with our fellow guests–a doctor from Houston, an engineer from Baton Rouge and our gracious manager and tour guide Roberto.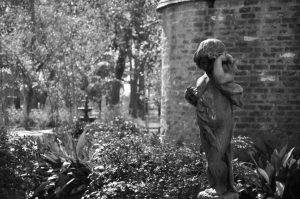 In the garden outside Bocage Plantation
We awoke to the smell of bacon (yum!) and marveled at the walk-in steam shower that fought for our attention against the elaborate breakfast waiting for us in the dining room. Our master chef Igor, a native from Ukraine, whipped up omelets, biscuits and apple pancakes all served on fine china alongside our fruit-filled crystal bowls and espresso. Although he spoke little English, he told us of his love of black and white photos, so the pictures featured in this blog are converted in his honor.
The morning was chilly outside, but we bundled up and walked the grounds for better views of the mansion. Horses grazed in the fields next to us and ruins lay in the back of the property from when sugar cane used to be harvested and burned on the property. We said our goodbyes and pointed the car toward the Sunshine Bridge, crossing the Mississippi River and carrying on to the other side.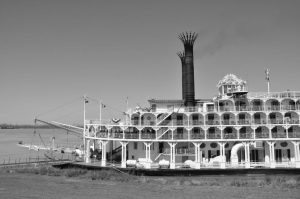 American Queen Steamboat
Traveling south, we were struck by the sight of a steamboat docked along the river's bank. We quickly pulled over and climbed the levee to get a better view of the American Queen, stopped in Vacherie on its voyage from New Orleans to Memphis. Turning around, we smiled at the familiar row of 300-year-old live oaks lining the path to Oak Alley Plantation, probably one of the most photographed places in the country. We only had a minute to take in the view, though, before we continued on to make our tour at Laura Plantation.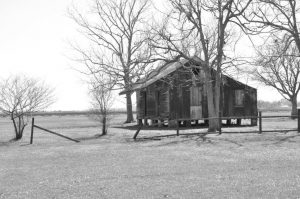 Slave cabin at Laura Plantation
The elevated and brightly colored Laura Plantation home stands as a tribute to the generations of Creoles and their slaves who once lived on this property. In one of the most captivating Louisiana accents I've ever heard, Stephen, our tour guide, led us through the history of Laura Locoul's family. The tour is based on Laura's memoirs and spares no details in describing the lives of her ancestors, from their business successes to their personal sacrifices, from the raw, but generally accepted treatment of slaves to the family's own downfalls. It's a thought-provoking tour–one that will stay with me for quite some time.
Unfortunately, there is only so much time in a weekend, and the rest of River Road's grand plantations had to be saved for another day and another adventure. 
Oak Alley Plantation