After traveling from San Francisco to Eureka, part two of our journey was in northern California's redwood coast. We spent three nights in McKinleyville, just north of Eureka. This gave us two full days for exploring, and we crammed in as much as possible. Our agenda was divided pretty evenly between California's redwoods and beaches:
Redwoods
Redwood National and State Parks and Prairie Creek Redwoods State Park blur together on a map. Highway 101 leads through both, and other than separate visitor centers, you wouldn't notice much of a difference. While printing our booklets for the Redwoods Junior Ranger program, I stumbled upon Redwood EdVentures. It's more than 20 Quests in various locations throughout the Redwood coast. Each Quest has a map and a series of clues to lead you along a trail. At the end of the trail, kids look for a hidden word. When you bring the word back to the Visitor's Center, you receive a rather nice patch that can be sewn on a backpack or jacket.
Lady Bird Johnson Trail
Just north of Orick, turn onto Bald Hills Road to access the Lady Bird Johnson trail. President Nixon dedicated the grove the First Lady in August 1969. Pick up a booklet at the trailhead to learn more about the redwoods along the interpretive trail. There are 13 numbered stops throughout the easy 1.5-mile loop. If you take your time, you'll find lots of opportunities to step inside trees or gaze upwards at the towering heights.
Prairie Creek Trail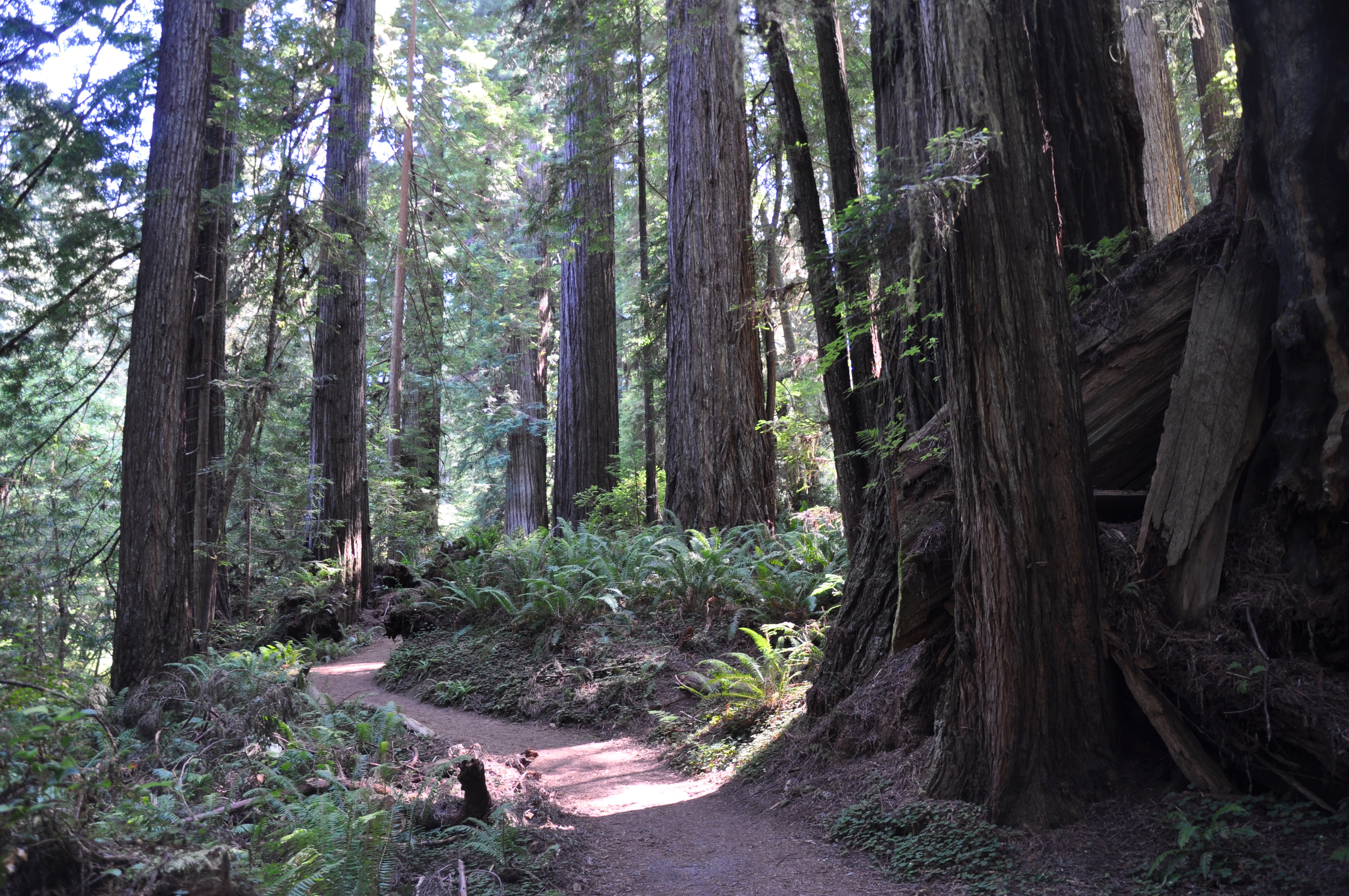 Right outside the Prairie Creek Redwoods State Park Visitor Center is the Prairie Creek trail. This is one of the sites included in the Redwood EdVentures. It's a beautiful trail, darker and more closed in than the Lady Bird Johnson trail. Prairie Creek winds along beside the redwoods here. The whole loop is 2.5 miles, but if you're short on time and want to do the EdVentures, you only need to do a 1.5-mile loop to find the clue.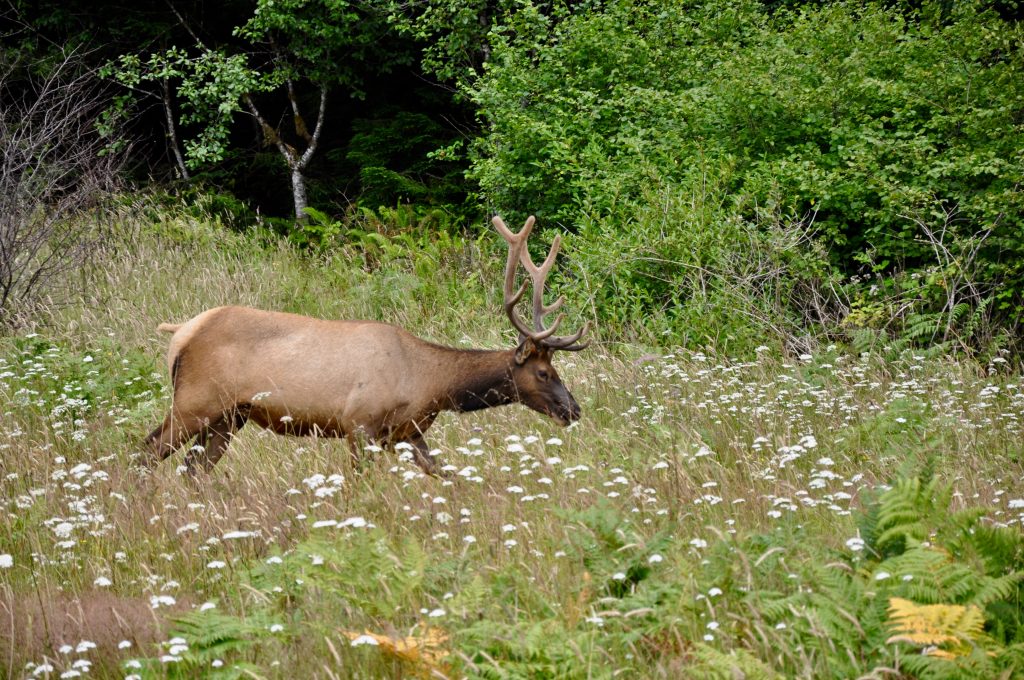 Don't miss Elk Prairie Meadow outside the Prairie Creek Visitor Center. It's a great spot for elk watching. We got some close-up views on our way out in the evening. Another highlight of the State Park here is Fern Canyon. Unfortunately, we didn't have enough time to make it out there, but it's definitely on the list for next time.
Big Tree Wayside
A quick, easy stop is the Big Tree Wayside walk. Only 200 yards from the parking lot, you'll find the 1,500-year-old behemoth, which stands over 350 feet tall. Short walks from the Big Tree viewing area lead to even larger trees.
Beaches
The advantage of visiting the redwoods is you not only immerse yourself in ancient trees but also get lots of opportunities for rock hunting and ocean viewing.
Agate Beach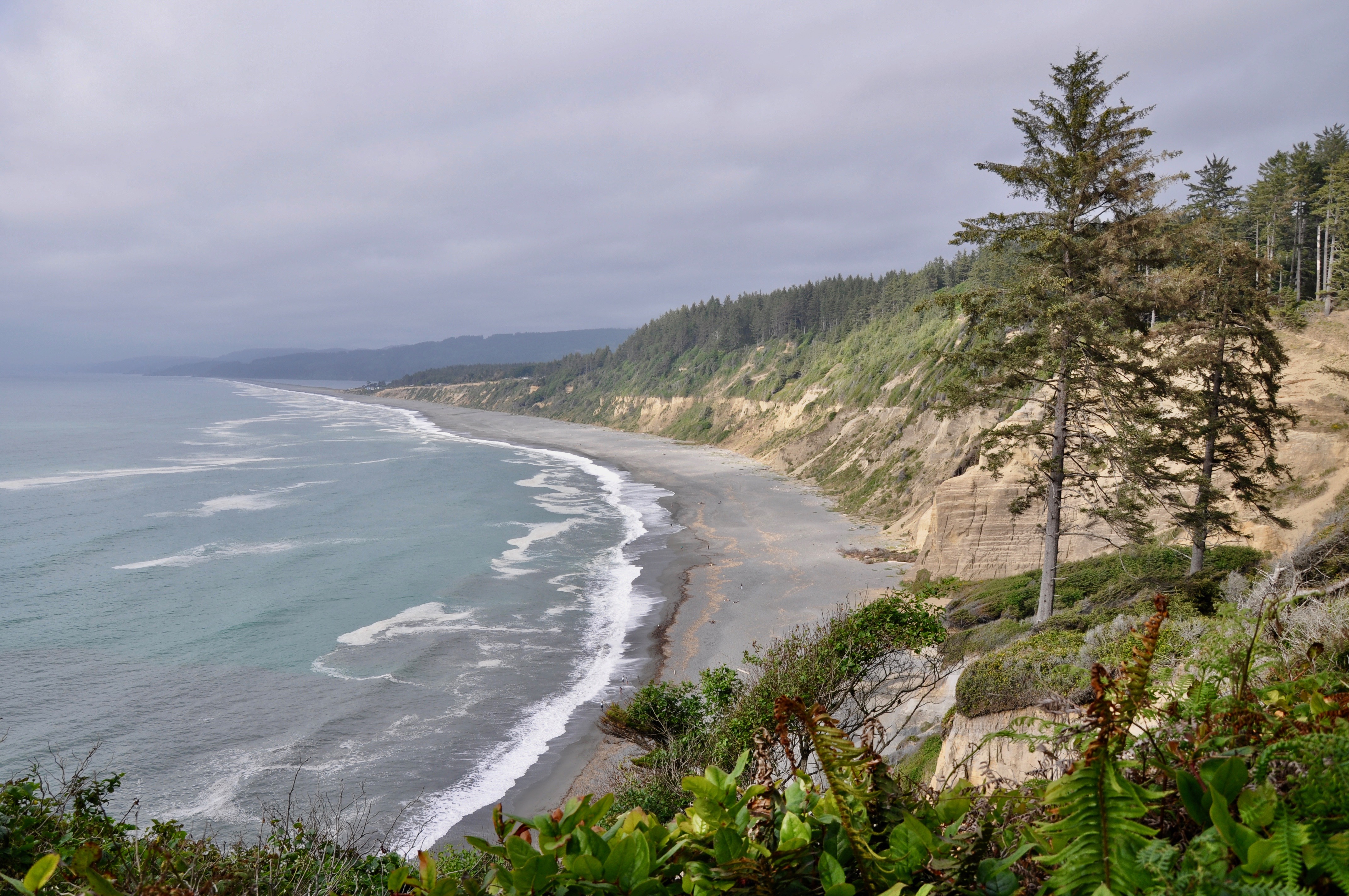 At Patrick's Point State Park north of Trinidad, a steep cliff-side trail brings you down to Agate Beach. You could arguably spend a whole day here, lying on your stomach, sifting through the rocks in search of agates. We weren't quite sure what we were looking for at first, but a nearby beachcomber took pity on us and showed us some examples of the translucent gem. While we searched, our youngest built a series of creeks and dams alongside a trapped tidepool. It was one of our favorite spots, and we practically had to drag the boys away.
Ferndale & Centerville Beach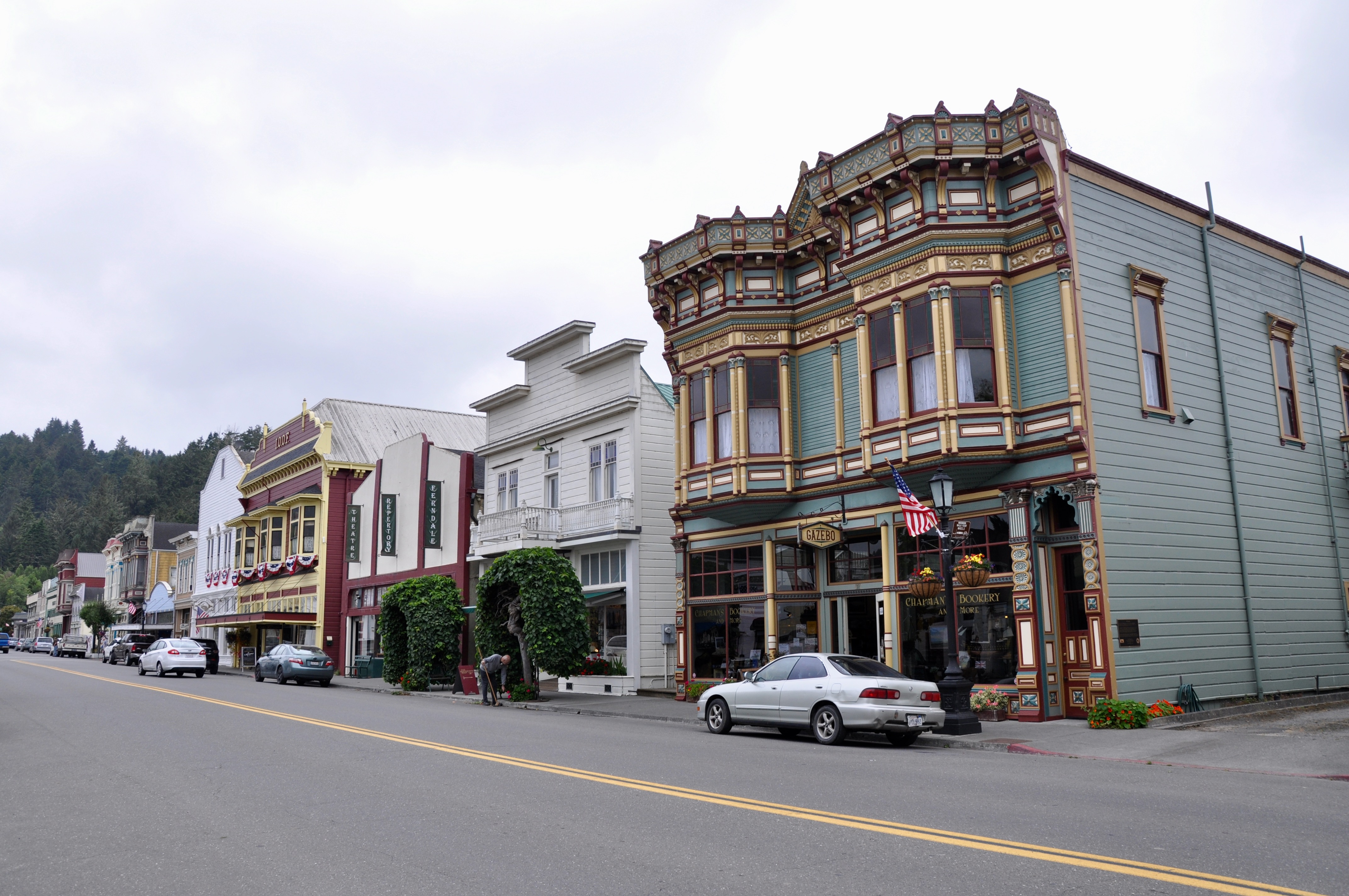 After seeing the advertisements for the Victorian village of Ferndale, we decided to give it a shot. A quaint town with an active Main Street, Ferndale was definitely a hidden gem. Every home and building in town seems to be both architecturally beautiful and historical, and in fact, the entire town is a California Historical Landmark. Our first stop in any small town is always the local bookstore, in this case, Chapman's Bookery. We searched the guide books and kid's books sections, excited to find The World of the Wazzlewoods by Tyrel Bramwell, a kid's chapter book set in Ferndale.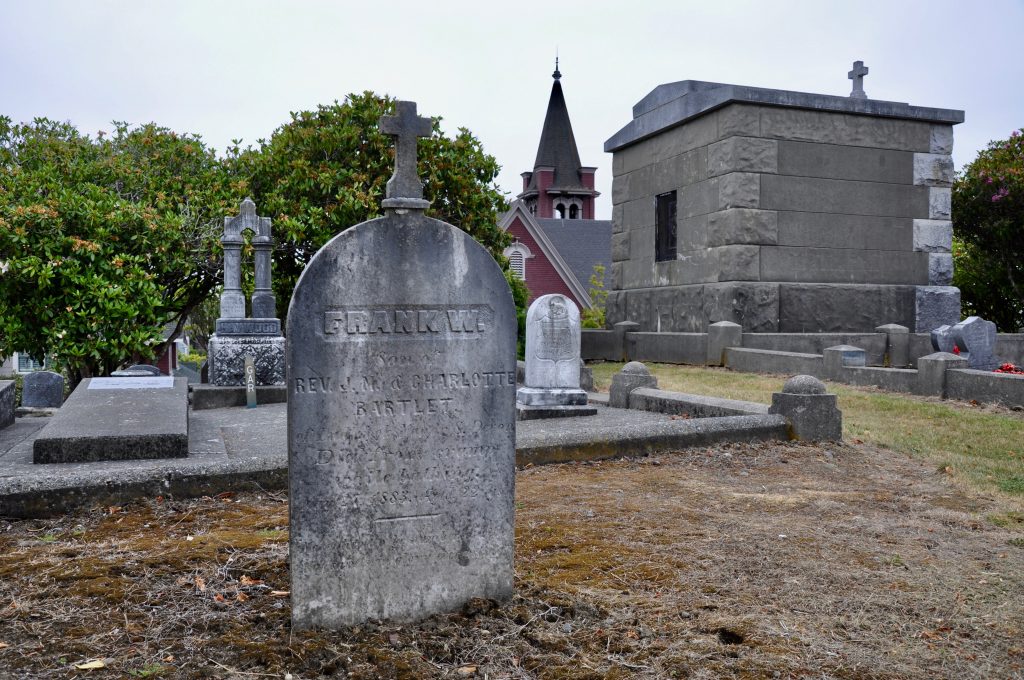 Besides knowing a lot about books, booksellers are generally a great resource for recommending the top sights to hit in the area. This one was no exception, pointing us toward the historic cemetery, which rests on a hill at the edge of town. Some of the graves here date back to the 1800s. Also be sure to check out Golden Gait Mercantile, where I could have spent my paycheck on kitchen gadgets, but ended up settling for some old-fashioned candy.
Centerville Beach was a 10-minute drive out of town, down a nearly deserted road through farmland. We questioned our directions until the road brought us right up to the sand's edge. There were quite a few fireworks remains left over from July 4 celebrations, but after we walked down the beach a ways, the area looked more pristine. We practically had the sand and surf to ourselves, as very few people had ventured out today. We were drawn to the huge cliff south of where we had parked and spent much of the afternoon walking along its base and searching for colorful rocks.
Eureka and Moonstone Beach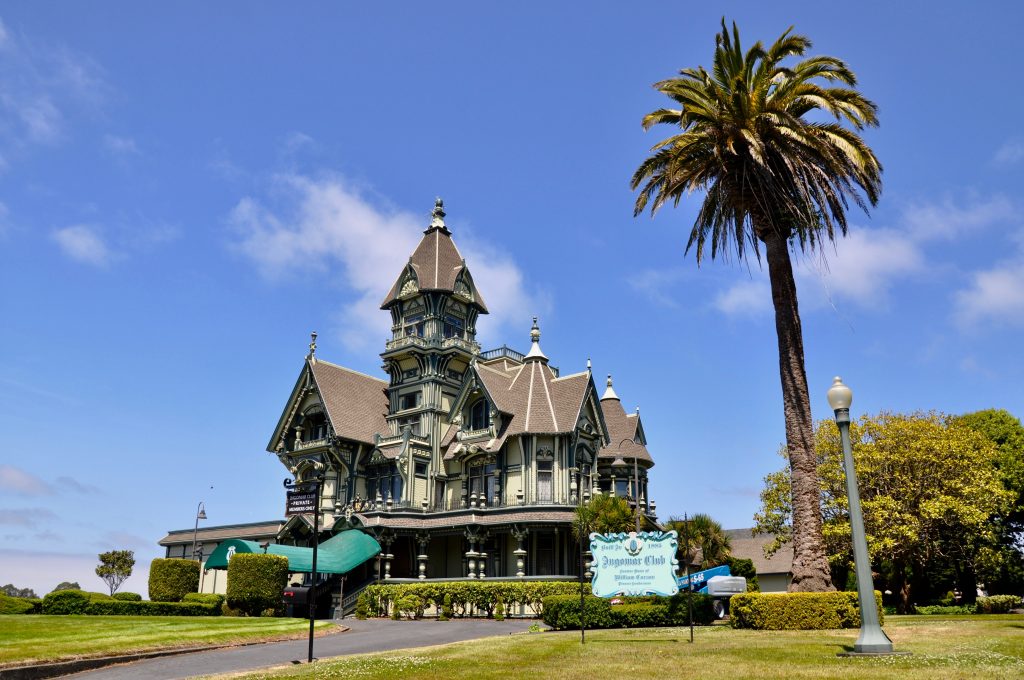 On our way back north, we took Waterfront Drive through Eureka, stopping to gaze at Table Bluff Lighthouse and the Fisherman Memorial on Woodley Island across the channel. At the end of 2nd Street, we ran into Carson Mansion, a stunning Victorian mansion built in 1885. Today it houses the private Ingomar Club.
Continuing on, we took a chance at Moonstone Beach. Like all the others, it was beautiful, with Little River flowing through the center of it right out to the ocean. But don't be fooled by the name. There are no moonstones here. However, on the north end, we discovered a small waterfall spilling from the cliff into the sand and small caves for exploring. It was the perfect spot for three boys to let their imaginations run wild.
Trinidad Beach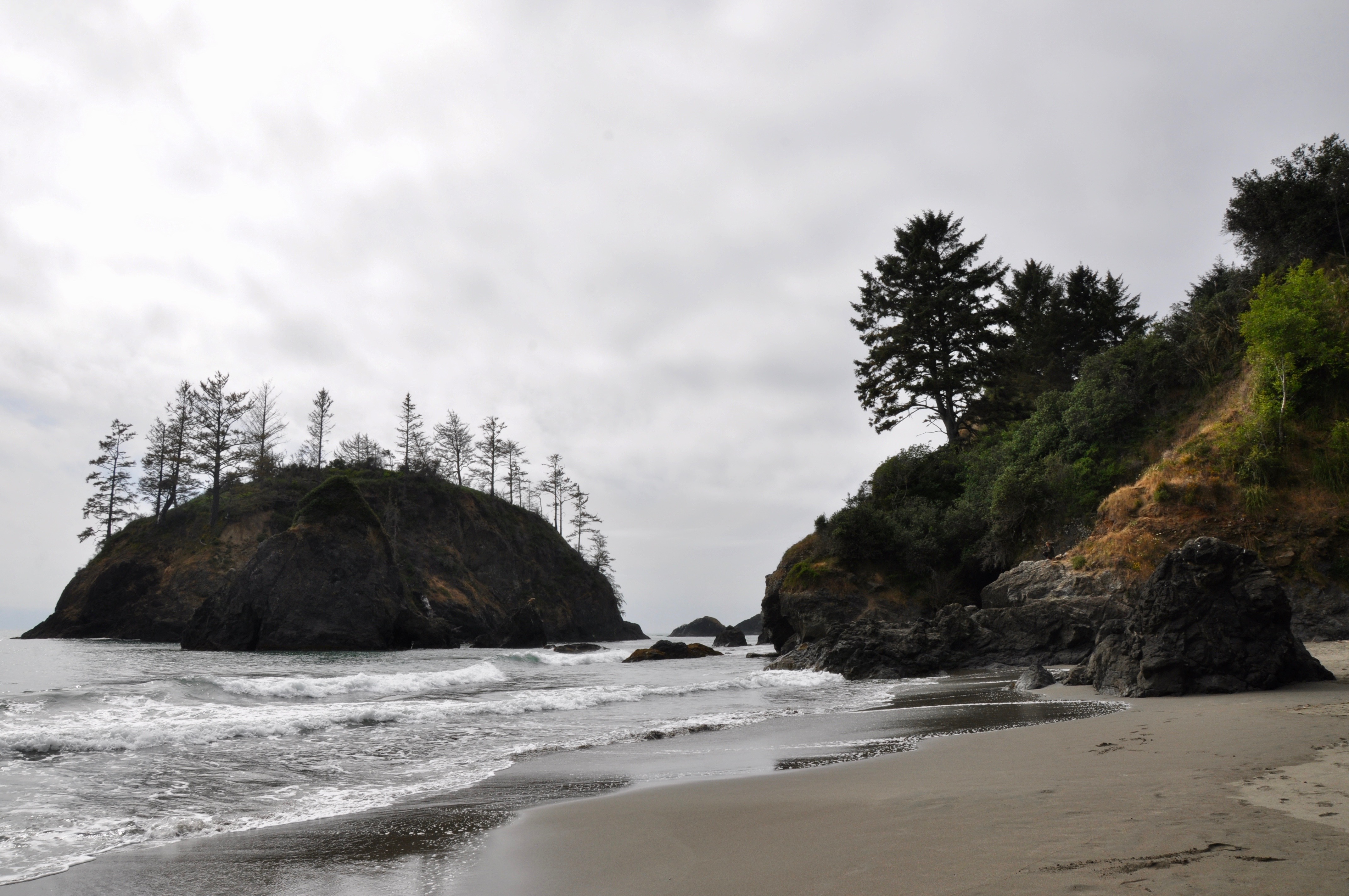 Our last pull off for the day was at Trinidad Beach, just off the parking lot at the end of Lighthouse Road. To the north, the view of the rock outcroppings here was worth the stop. But the kids loved their "secret tunnel" on the south side, where they built a fort out of driftwood and searched for fossils along the base of the rocks. It was their own private hideout tucked away out of sight from the rest of the beachgoers.