A short road trip out of state landed us in Alabama's Dauphin Island, a barrier island at the mouth of Mobile Bay. Vacation hotspot for locals more so than tourists, you won't find any shopping outlets or putt putt golf here, but rather quiet neighborhoods overlooking the bay and expansive, white-sand beaches. Unless, of course, you visit during the Alabama Deep Sea Fishing Rodeo, the largest fishing tournament in the world.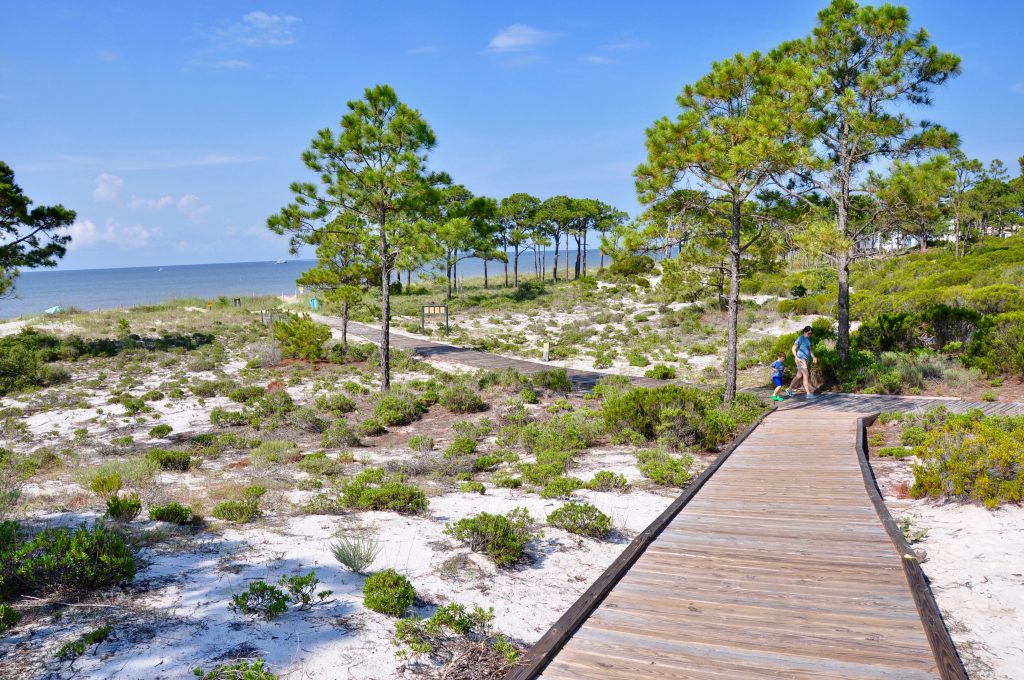 Dauphin Island's Bird Sanctuary
The island's residential side
Lucky enough to have family to stay with on the island, we arrived late in the evening to put us in reach of an early morning beach walk. We were the only car parked at the public beach, and a cold breeze followed us as we walked along barefoot across the ultra-fine sand toward the Gulf's lapping waves. I remember years ago watching the waters beneath the fishing pier and elevated picnic areas. Today, more sand has drifted to the west end of the island, making the beach wider than ever and the pier jut out over a sea of sand.
Trails through Shell Mound Park
I gathered small seashells while Charles chased the seagulls and Paul photographed the rather large mounds of what appeared to be jellyfish. We were able to enjoy the views for half an hour before August began whimpering in the cold, and we sought shelter in a more contained part of the island. Shell Mound Park marks the site of prehistoric mounds built by early Native Americans. Today, only a few oyster shells poking up through the path belie that this hilly nature walk is an important archaeological site.
With hiking on our mind, we ventured farther down the island to the Audubon Bird Sanctuary. Miles of walking trails cut across 164 acres of land protecting one of the best places in the country to view migrating birds. A boardwalk leads past pines and live oaks to an overlook at Galliard Lake. Continuing on, you eventually emerge back at the beach's sand dunes.
Historic Fort Gaines
On the far east side of the 14-mile-long island stands Fort Gaines, built in 1821 and integral in the Battle of New Orleans, the fort is famous for Admiral Farragut's command "Damn the torpedoes – full speed ahead!" It's a well-preserved fortification and reenactments are held here throughout the year. Other highlights of the east side are the Estuarium at the Dauphin Island Sea Lab and a ferry across the Bay to Historic Fort Morgan. There's never enough time to discover it all, though, and our weekend ended all too quickly.