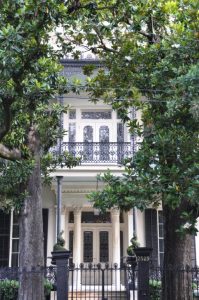 Another Garden District Beauty
In the midst of t-ball and swim lessons, we've been sticking close to home as of late, taking short adventures in and around New Orleans. Our latest outing was something we rarely do, a guided walking tour of one of the most extravagant sections of the city – the Garden District. Once home to wealthy Americans looking to settle outside of the French Quarter, today many of the area's mansions boast historic signs detailing fascinating stories that often end with links to Hollywood stars.
We met our guide, Kevin from NOLA Native Tours, on Magazine Street at the Defend New Orleans store. The early morning weather was clear with a cool breeze that made the shaded sidewalks comfortable on this mid-summer day. Kevin led us north on 1st Street, deep into the heart of the quiet neighborhood. Aside from the occasional dog-walker, we had the street to ourselves, with no one watching us gawk at the beautiful homes before us.
In the early 1800s, this area was known as the city of Lafayette, eventually annexed by the city of New Orleans in 1852. Our tour guide pointed out notable architecture styles, from Victorian to Italianate and Greek Revival, all with varying degrees of cast iron railings and flickering Bevelo gas lanterns. I was particularly fascinated by the large marble slab lying by the curb in front of one of the homes. I never would have guessed it was once used as a step for ladies exiting carriages, a fact that so easily painted an imaginary scene of well-dressed revelers arriving in their carriage for an evening party.
Cornstalk Fence
We passed the home where Jefferson Davis, the first and only president of the Confederacy, died. Nearby, vampire-author Anne Rice grew up in the Brevard-Rice house, just a few steps away from the Mannings' mansion (yes, that would be the Mannings…football icons Archie, Peyton and Eli). On Prytania, the French flag waved in front of the French Consulate, while across the street, a rectory once built for Redemptorist priests later became another possession of Anne Rice and then actor Nicholas Cage. Meanwhile, an intricate cornstalk fence surrounded one grand home, proving that the famous fence does exist outside of the French Quarter.
The tour paused at the Rink, a collection of boutique stores, the Garden District Book Shop and a coffee shop, before unleashing us inside Lafayette Cemetery Number 1. We spent nearly half an hour here, photographing the elaborate above-ground tombs with springy plants emerging from their crevices. This city of dead is crowded and slightly crumbling, details that somehow make it even more alluring.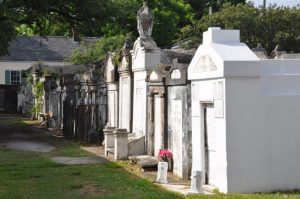 Lafayette Cemetery
The last stretch of our journey showcased one of the city's best-known restaurants – Commander's Palace, and exquisite homes perhaps more famous for their architecture than for their Hollywood owners (Sandra Bullock and John Goodman). It was a pleasant walk in the hands of a knowledgeable tour guide, one who casually turned a morning stroll into an exploration of beauty, time and entertainment.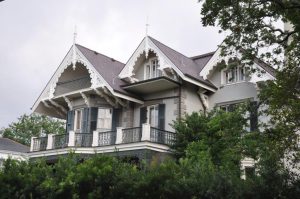 Sandra Bullock's Garden District Home