Our most recent summer destination was northern California. After a terrifying flight and unexpected landing in Colorado, we finally made it to San Francisco. Glad to be on land again and anxious to begin our ten-day driving tour, we threw the bags and kids in the rental and took off. We had 10 days to drive a loop from San Francisco north to the Redwoods, east to Mt. Shasta and then back south through Lassen Volcano. It was a whirlwind tour, with probably enough content for a whole book! But I'll give you the abbreviated highlights from our favorite parts of the trip. Here is our leg along the northern California coast:
Baker Beach
As this was our third trip to San Francisco, we only allotted two days in and around the city – our first and last days. This was just enough time to hit our favorite spots, starting with Baker Beach. On a Friday after lunch, the parking lot and beach were packed to capacity. Kids in bathing suits were playing in the sand and dipping their toes in the frigid water. Being from the South and used to much warmer weather, we shivered in our jeans and jackets. But we didn't come here to go swimming. Besides the cold, the waves are pretty rough. We came here for the photo op. It's one of the best places to capture a shot of the Golden Gate Bridge. Besides, it gave our five-year-old some much needed time to run around and dig in the sand.
The Pelican Inn

We had a little time before our 6 p.m. parking appointment at Muir Woods. (Yes, in case you haven't heard, you now need to schedule a time to visit Muir Woods and either reserve a parking spot or a shuttle.) So with time to kill and dinner on our minds, we swung by The Pelican Inn for fish & chips and an English dip sandwich. In between bites, the kids chased birds around the garden, and we watched horses trotting down the road, probably taking their riders to nearby Muir Beach.
Muir Woods National Monument
Next up was Muir Woods National Monument. It's a great, brief introduction to the redwoods before viewing the giants up north. I originally was bummed to get such a late time slot at Muir Woods, but it turned out to be a blessing in disguise. The national monument is open until 8 p.m. during the summer and normally packed. When we arrived, we got a parking spot right up front and practically had the place to ourselves. It's hard to really experience nature when you're surrounded by people, so this was perfect. I had printed Junior Ranger booklets back in New Orleans, so armed with their packets and pencils, we stepped into the woods.
As close as Muir Woods is to bustling San Francisco, it feels like you're worlds apart. The main trail is straight in and out, about an hour and half if you go to the end and back. It's nicely paved, each side of the trail flanking a stream running down the middle. With the redwoods towering above us, we felt very small next to the tallest living things in the world. As the light dimmed, we finished our hike, and Park Rangers swore the kids in as the newest Junior Rangers.
Muir Beach
On our way out, we stopped by Muir Beach. It was a short trail down to the water, where groups of kids were huddled around bonfires. Hoards of pelicans flew overhead. My oldest counted over 500 before we finally dragged them away. We still needed to make it to Petaluma for the night.
Luther Burbank Home & Gardens
The Pelican Inn was our one splurge on eating out, but now we had to get serious about food. Finding a Trader Joe's in Santa Rosa, we picked up breakfast and plenty of road trip snacks and had a little picnic at Luther Burbank Home and Gardens. It was early morning, and our only company was the groundskeeper, who welcomed us to enjoy the gardens. Luther Burbank had a 50-year career as a horticulturist, developing many new plants throughout his life. My husband, Paul, is an avid gardener himself. Our little patch of land in New Orleans is exploding with colors and hundreds of plants. And his pride and joy is his spineless cactus, created by none other than Luther Burbank. (It's also a favorite snack for our red-footed tortoise!)
We couldn't stay long, though, as we needed to make it all the way past Eureka before nightfall – with several stops planned along the way… Here are some of our favorites:
Hwy. 1 Beaches & Ocean Views
Navarro Point
Driving west from Cloverdale along Hwy. 128, the road winds past small vineyards tucked away in hidden hills. You then pass through Navarro River Redwoods State Park, where for 11 miles, second growth redwoods crowd right next to the highway. And then it opens up to Hwy. 1, and the Pacific Ocean glistens before you. We parked at Navarro Point Preserve and hiked the trail through the wildflowers. The reward was expansive ocean views high atop a cliff, with sea lions playing on the rocks below us.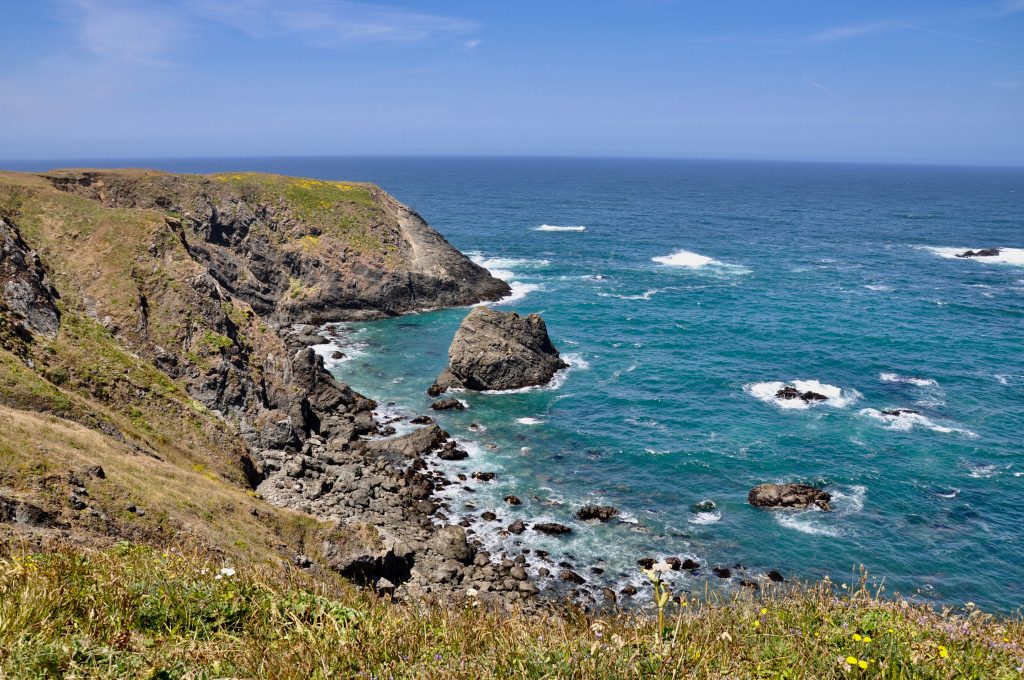 MacKerricher State Park

In Fort Bragg, MacKerricher State Park manages nine miles of the coastline. Highly popular Glass Beach was once a dump site following the 1906 great earthquake. Apparently the townspeople hoped that the trash would wash away, but instead the stubborn ocean kept washing it back on the beach. A hundred years later, all that remains are the handfuls of colorful sea glass littering the beach. Take all the pictures you like, but as this is a state park, you're not allowed to leave with any glass.
At the main entrance to MacKerricher, visitors are greeted by an impressive whale skeleton. The road brings you around to the beach and a trail to Laguna Point. The seal watching station here offered one of the best views of both harbor seals and sea lions lounging on the rocks before us.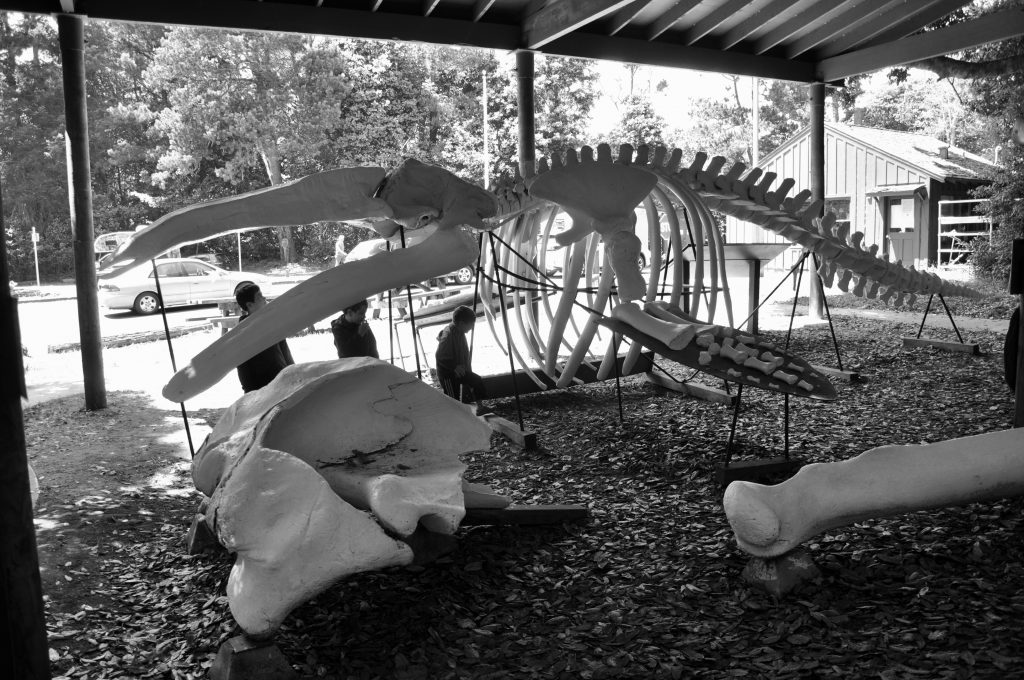 Hwy. 1 north from Fort Bragg offered breathtaking views of the Pacific Ocean around every turn. The road then turned inland back to Hwy. 101. Much of this stretch – 31 miles – is mirrored by the Avenue of the Giants. We had driven this route years before, but unfortunately there wasn't enough time to take it again. Our Airbnb in McKinleyville awaited. It was indeed a "Charming Farm Barn Loft," and anyone traveling in the area should check it out.